Aviation Courses After 12th & Graduation in India 2023, Fee Structure for Art, Commerce, Science Students & Scope
Aviation Courses After 12th & Graduation are giving many prospects for the students to explore their talent in this industry. The programs aviation courses after 12th are available in various formats like UG, PG, and Diploma. You can pick any of them as per your interest, eligibility of matching, and timeline of a program. The basic course duration of an aviation course lies between two to four years (vary from course to course). The registration process starts in May and exceeds till June. Classes section generally starts from July mid till August first week. But due to Covid this year, the admission was extended till August end.
Opting for any aviation and the aeronautical course will teach you day-to-day skills on how an aircraft works and what is required for aeronautical sectors. It is also related to the type of operations that helps in managing the airport and flight-related activities. Aviation is a vast stream that is not limited to only flights and air hostesses. There are many other career options in aviation available in the management department also.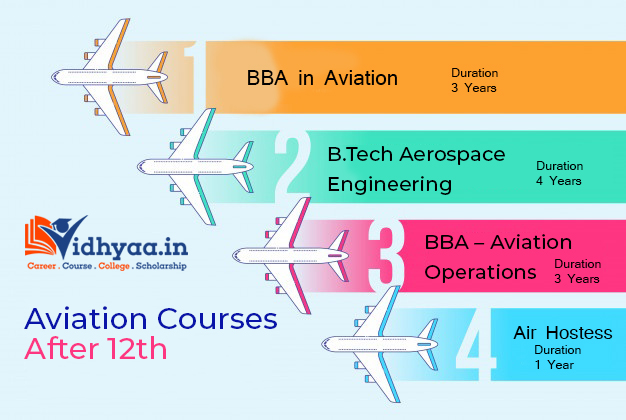 This article has been formatted with quality information through which you can resolve all your queries like What are the best aviation courses after 12th, What is Aviation course, Job profiles after Aviation course, etc.
Aviation Courses after Graduation in India Details
Aviation Course after Graduation covers UG courses which are 3 years of duration and PG courses which are 2 years of duration. UG course is also known as an undergraduate course which is done just after 12th. One plus point of doing an aviation course is that candidates of any stream can apply for UG courses as well as PG courses. We suggest opting for PG only when you have done graduation in aviation or a related course. Aviation Courses After Graduation will help you to settle career-wise without much of a struggle. You will be reading about interesting topics like Meteorology, Air Regulations, Navigation, Aircraft and Engine, Air Traffic Control, Flight safety, Aviation Security, and Crew Management, etc.
Below is the section listed with some top Aviation courses that you can opt for after 12th and graduation. Check it out and choose your relevant program.
List of Aviation Course After 12th 2023 Details
Go through the list of Aviation Courses after 12th 2023 with their Eligibility, Career scope, and average salary. The following courses are-
BBA in aviation course after 12th is a three years duration course in which the main focus is given on managerial skills in terms of the airport. All 12th passed out students can opt for this course whether they are from science or arts or commerce. If you are interested in taking more specialization then you can go for an MBA degree as well. Accounting marketing, HR, safety management, etc are being introduced in the course.
Eligibility Criteria: Students with a minimum of 45% and a maximum of 60% marks in their 12th class can apply.
Jobs: After doing this course you can become Test Manager, Program Manager, Assistant Airport Manager after completing BBA in Aviation
Salary: 2 to 6 Lacs per annum.
Check Also Air Hostess Course after 12th
Get Free Counselling @09717134336
Diploma in Ground Staff & Cabin Crew is a 6month to a 1-year professional diploma in aviation course. During this course, you will learn to take how you can take care of the passenger comfort & smooth running of an aircraft. You will also learn to take care of multiple operations like guiding passengers to the aircraft, right parking space, ticket checking, and other related operations. This way you will be assured that the passengers are having a delightful experience on and off-board.
Eligibility Criteria: To take admission you have to 12th pass in any stream securing a minimum of 50% marks. Students should have excellent communication skills.
Jobs: Candidates become Flight Dispatcher, Airport Station Attendant, Cabin Crew, Cargo Ground Staff after completing a diploma in ground staff after 12th.
Salary: 4 to 6 Lacs per annum.
Aircraft Maintenance Engineering also is known as AME, in short, is a 4-year aviation degree course. It can be done with B.Sc, B.Tech, or BE in AME. To get admission one needs to clear engineering exams like JEE ADVANCE/ MAINS etc. In this course, you will learn how an aircraft works and how the operations are being performed for smooth working. To check whether aircraft are working properly, Aircraft Maintenance Engineers are required.
Eligibility Criteria: Students need to pass their 10+2 in the Science stream with a minimum of 50 % marks.
Syllabus: The course covers subjects like-
Basic Aircraft Engine
Theory of Flight
Workshop
Engineering Drawing/Graphics
Aircraft Material and Hardware
Workshop
Aircraft Structures
Aircraft Rules
Propellers
Aerodynamics
Aircraft Electronic Systems
Computer Systems
Aircraft Inspection and Maintenance
Aircraft Systems and Maintenance
Gas Turbine Engines
Basic and Applied Electricity
Aircraft Instruments
Radio
Employment Areas: After completing the AME course after 12th Airlines, Maintenance, Repair, and Overhauls (MRO) Industries, Aircraft Manufacturing Companies, Aircraft Part Manufacturing Companies, Defense.
Salary: 2-3 Lacs per annum.
Aeronautical Engineering or AE is divided into 6 semesters and is years of duration. The study is all about Designing an aircraft as per the requirement. It is one of the lucrative and most specialized branches in engineering. Students will get all the knowledge of theoretical and practical aspects of an aircraft. After attaining the degree students will become Aeronautical Mechanical Engineers, Flight Engineers, Assistant Technical Officers, Aircraft Production Manager, Thermal Design Engineer, and Consultants.
Eligibility Criteria: Start your career by joining B.Tech/ BE programs after 12th. You need to be 10+2 pass in the science stream with at least 50% marks. Having a valid score of relevant national & state-level engineering entrance exams is an added advantage.
Syllabus: The course covers subjects like-
Aerodynamics
Propulsion
Flight Mechanics
Aircraft Structures
Communication Skills
Computer Programming Basics
Elements of Mechanical Engineering
Mechanics of Solids
Environmental Science
Theory of Vibration and Noise Control
Avionics
Introduction to Control Theory
Aircraft Design
Theory of Heat Transfer
Computational Fluid Dynamics
Aircraft Systems and Instruments
Other Important Links
Job Profiles: Assistant Aircraft Engineers, Aircraft Production Manager, Mechanical Design Engineer, Aerospace Designer Checker after completing Aeronautical Engineering after 12th.
Salary: 5-6 Lacs per annum.
Commercial Pilot License or CPL is a 2-year aviation course. It is the gateway to becoming a professional pilot, it's a permit to act as a pilot of an aircraft. After getting training from recognized courses and full fill all the needed compliance one can become a pilot & fly private & commercial aircraft in India or the world. CPL training is heavy on pockets but it will get you a 100% job guarantee. CPL is an 18 monthly program in which students should have 160 hrs of flying experience. After completing the training students become Airline Pilot, Experimental Test Pilot, Chief Pilot, Co-Pilot, Commercial Pilot, etc.
Eligibility Criteria: Students keen to join this course should have cleared 10+2 in the science (PCM) stream with a minimum of 50 % marks. You have to clear an aptitude test followed by a personal interview.

Syllabus: The course covers subjects like-
Air Navigation
In-Flight Navigation
Performance of Single-Engine Aeroplanes
Radio navigation
Basic radar Principles
Flight Instruments
Aviation Meteorology
Air Regulation
Rules of the Air
Air Traffic Services
Security
Flight Hazards
Basic Aviation Physiology and Health Maintenance
VFR Communications
IFR Communications
Subsonic Aerodynamics
Transonic Aerodynamics
Limitations
Job Profiles: Pilot in Command, Helicopter Pilot, Corporate Pilot after completing Commercial Pilot License after 12th.
Salary: 1.5 Lacs per annum.
6- Diploma in Aviation Hospitality Course after 12th
You can join Diploma in Aviation hospitality which is 12 to 15 months of duration. You can join this course after the 12th in any stream. If you are keen on making a career in the aviation sector, then the diploma is one of the best-suited courses for arts stream students. It gives an in-depth knowledge of the hospitality requirements.
The competition among airlines is growing due to the growth of technology and facilities in the aviation sector. Now passengers have many options to fly on one single route. The biggest differentiator in choosing the flight, again and again, is customer experience. So the main focus of aviation hospitality is to give the best customer satisfaction. It is designed for giving all-important professional knowledge of aviation hospitality.
You can become Order Management Specialist, product manager, chief technology officer, cabin crew, Aviation hospitality instructor, Assist. Counselor and Admin Executive etc. after acquiring this course certificate.
Eligibility Criteria: The student should have 10+2 with a minimum of 50% marks with excellent communication skills.
Syllabus: The course covers subjects like-
Aviation

Travel Management

Self-Grooming Fares and Ticketing

Personality Development

Hospitality Management

Communication Skills

Swimming

Interview Techniques

Foreign Language
Job Profiles After Aviation Courses:
Cabin Crew, Product Manager, Executive Assistant, Chief Technology Officer, Order Management Specialist after completing Diploma in Aviation Hospitality Course after 12th.
Salary: 6-8 Lacs per annum.
Aviation Courses After Graduation in India
Professional Pilot Training

MA in Aviation Management

Aviation Security

Aviation Management

Aviation Technician/Aircraft Maintenance

Master's in Aerospace Engineering

LLM International Air, Space and Telecommunications Law
Note:

For any questions regarding admission to aviation courses, please feel free to contact our guidance team at

@9667853261
Aviation Courses List After Graduation/ Degree
A student can pursue aviation courses after the 12th or after degree. Aviation Courses admissions are done either based on the merit of class 12 with an aggregate of 50% in physics, chemistry, and maths or via common management entrance exams.
List of Top Aviation Courses 2022 with Duration & Fee Structure
Aviation Courses After 12th Commerce
Aviation Courses After 12th Arts
Aviation Courses After 12th Science
Note - The above mentioned are the estimated fees that vary from course to course and college to college.
So the above-mentioned information was the list of top courses in the Aviation industry or Aviation courses in India after the 12th. If you have any query related to any aviation course which is not mentioned here please feel free to connect @ 966785326 for free counselling.
Top Aviation Colleges in India 2023
Jamia Milia University, New Delhi
Mumbai University, Mumbai
NIMS University, Rajasthan
Amity University, Uttar Pradesh
School of Aeronautics, New Delhi
Banasthali Vidyapeeth
Kirsty Jayanti College, Bangalore
Annex College, Kolkata
Hindustan Institute of Technology and Science, Tamil Nadu
Galgotias University School of Business, Greater Noida, UP
Acharya College, Bangalore

A Career in Aviation After Graduation in India 2023
Graduates in completing their respective courses can apply for the following aviation job roles:
Air Hostess/ Cabin Crew.
Front-end Office Operator.
Steward. Assistant Manager.
Airport Manager.
Cargo Department Manager
Aviation Courses Admission Process 2023
For admission to any aviation course, you have to meet a particular admission or eligibility criteria. This depends on course to course whether you are taking admission in UG, PG, or diploma. Some colleges also interview to select cream candidates. This way the administration can differentiate students according to their ability.The general admission criteria as mentioned below
Due to COVID 19, the registration process was extended till August 2023. General admission month starts from May to July.
Students must have done 12th from a recognized board.
It is to be noted that some aviation courses like diploma/certificate courses also offer admission based on class 10th score.
For hassle, free admission students need to score a minimum of 50% to 60% marks. Admission can be followed by a round of interviews or entrance examinations (conducted by various A to B aviation colleges).
Some colleges also offer admission directly as they have limited seats and batches.
How To Apply For Aviation Courses After 12th
It is to be noted that this a general application procedure. It may vary from course to course and college to college
One can apply by visiting the college website or visiting a college in person.

Admission details will be mentioned on the college's official website or college notice board.

Read the Registration form and fill it very carefully

Attach all important documents and submit them very carefully.

One can pay the registration fee through the online mode or offline mode whatever is best suited.
Frequently Asked Questions (FAQ) Of Aviation Courses After 12th
Que: Which is the best course in Aviation?
Ans: As we can suggest there is nothing best or good. Each course has its uniqueness that you can choose as per your interest. However, some of the best-opted courses in the aviation stream are - BBA in, Commercial Pilot License or Diploma in Aviation Hospitality Course, Aeronautical Engineering courses.

Que: How to become a Pilot after 12th Commerce?
Ans: After passing 12th in commerce, candidates can join the Commercial Pilot License course or any flying school. This course will help you to take your career as a pilot. Although there are other courses as well for certain streams ( to be enquired from the college). Take free career guidance on CPL, Dial: 09717134336.

Que: What subjects will a diploma in Airport Management cover?
Ans: Here are the subjects that you'll have to study while pursuing a diploma in Airport Management:-
Airport Strategy and Functioning
Cargo Management and Handling
Staff Management
Safety & Security Management

Ques: I am a student of Arts. Can I pursue an Aviation course? If yes, then please tell me how much salary can I expect after it?
Ans: Students of any stream are allowed to pursue an aviation course.

The salary after completing an aviation course will depend on your job profile or designation. But an average salary for even a ground staff employee after completing a diploma in aviation is between 4 to 6 lacs Per Annum.

Some other Popular Courses after 12th
Top Aviation College in India 2023
Top AVIATION Colleges in Karnataka Admission 2022
Top AVIATION Colleges in Madhya Pradesh Admission 2022
Top AVIATION Colleges in Punjab Admission 2022
Top AVIATION Colleges in Delhi Admission 2022
Top AVIATION Colleges in Maharashtra Admission 2022
Top AVIATION Colleges in Gujarat Admission 2022
Top AVIATION Colleges in Tamil Nadu Admission 2022
Top AVIATION Colleges in Uttarakhand Admission 2022
Top AVIATION Colleges in Uttar Pradesh Admission 2022
Top AVIATION Colleges in Kerala Admission 2022
Top AVIATION Colleges in Telangana Admission 2022
Top AVIATION Colleges in Rajasthan Admission 2022
Top AVIATION Colleges in Haryana Admission 2022
Top AVIATION Colleges in Jharkhand Admission 2022
Top AVIATION Colleges in Chandigarh Admission 2022
Top AVIATION Colleges in West Bengal Admission 2022
Top AVIATION Colleges in Himachal Pradesh Admission 2022
Top AVIATION Colleges in Jammu And Kashmir Admission 2022
Top AVIATION Colleges in Andhra Pradesh Admission 2022