Karnataka Scholarship Scheme 2023 Online Application Form for PUC Students, Eligibility Criteria, Rewards & Last Date
TOP Karnataka Scholarship 2023: The scholarship for PUC students Karnataka 2023 is a financial staircase for those students who got drop out of their education, because of financial disabilities. This scholarship for PUC students Karnataka 2023 is being provided by both government and private institutions. The primary aim of this Karnataka scholarship for engineering students to uplift the education status of students who belong to backward castes. But after several surveys, some institutions have also availed this scholarship for students of the General caste group. Scholarship for Karnataka students 2023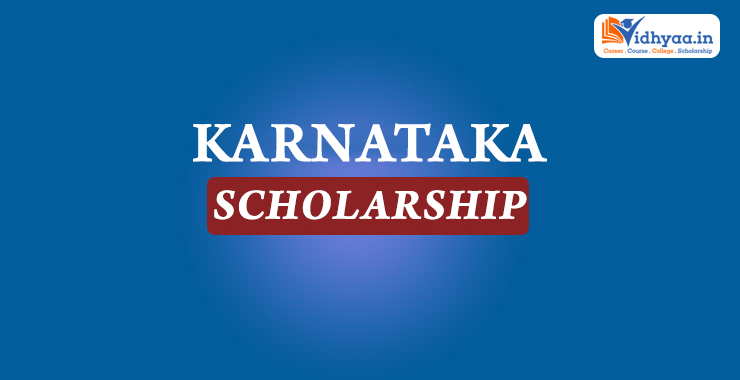 Top Karnataka scholarships scheme 2023 is for the candidates who want to study but having poor financial support. Students can continue their study for Under Graduate or professional courses with the Karnataka scholarships. These schemes are also available for engineering students in the form of Scholarship for Engineering distributed in the form of–
Karnataka Scholarship for engineering students.
SC/ ST Scholarships for engineering students.

You are kindly advised to read this blog article till the end, as it contains the necessary information like types of top Karnataka Scholarships, Scholarship for engineering students which also includes SC/ ST engineering students of Karnataka. You will be further getting details of the scholarship of 2nd PUC students Karnataka 2023 and scholarship for 1st PUC students 2023. Apart from this, you will be getting information about scholarships for 10th passed students 2023 Karnataka.
List Of Top Karnataka Scholarships 2023
UGC National Fellowship for Scheduled Caste Students (NFSC)
Research Fellowships under the MRFP Research Fellow Program
IITM Research Associateship
Some Other Karnataka Scholarships 2023
List of Karnataka Scholarship Scheme 2023
Shiksha Sahyog Scholarship for class 11th Students is conducted by NSDL for those students who can not afford quality education due to high fees. The key objective of this scheme supports them with financial assistance. Those candidates who passed their 10th with 60% marks are eligible to apply for the Shiksha Sahyog Scholarship. The selected candidates will reward INR 5000. The application form is available on the official website, so interested candidates can apply before 30 NOV 2023.
The School of Pharmaceutical Management at IIHMR University, Jaipur has founded a scholarship called, 6th All India Online Essay Contest, Manthan 2023. This is basically an online essay writing test for pharmacy graduates and postgraduate pharmacy students. And, the financial reward it is carrying ranges from INR 5,000 to INR 15,000, plus a participation certification is confirmed to be provided. Any student studying B.Pharma, D.Pharma, or M.Pharma can apply for this scholarship test, and that too without paying any entry fee. The final date to apply for this scholarship is 30 NOV 2023. Click on this scholarship for other necessary details.
It is launched by the Indra Gandhi Institute of Development Research. Their main motive behind launching this scholarship is to provide financial support to the students so that they can continue their effective researches while pursuing their Ph.D. degrees. The age limit for this scholarship is 40 years, and the financial reward it is providing has a range up to INR 70,000 Per Month. If you are interested in knowing more about this scholarship, then click its title.
India Fellow Social Leadership program hosted by India Fellow Organization. This fellowship helps young people become socially aware leaders of tomorrow and in the process helps them discover what they are truly meant to achieve in life. In the 13 months that follow, the India Fellows spend 12 months working full time on projects, completing training assignments, writing blogs, and at the same time engaging intensely with their cohort and fellowship team.
Eligibility: The candidate who wants to apply for this fellowship must be a citizen of India and his/her age must be in between 21 to 28 years.
Deadline: Last Date to apply for India Fellow Social Leadership Program is 29th NOV 2023
AIF William J. Clinton Fellowship applications are open for Indian students 2023. 10-month volunteer service program matching young professionals with the development firms. Fellows work on expendable and sustainable development projects in the fields of livelihoods, education, and public health. Fellows through professional development and mentoring during their ten months of service.
Eligibility:
Applicant must be a U.S. or Indian citizen, or a U.S. permanent resident;
Candidate between the ages of 21 and 34 on 18 September 2023;
He/ she should complete an undergraduate or Bachelor's degree before the start of the program on 18 September 2023.

Last Date: The last date for applying this scholarship is 20th September 2023.
Explore more details for the William J. Clinton Fellowship Click Here
The UGC-NET Junior Research Fellowship is a resourceful move that University Grants Commission makes every year. This scheme is built on the motive to encourage postgraduate students so they can step towards their higher education and studies, like M.Phil/ Ph.D. without any kind of trouble. The duration of this fellowships' benefits is 2 years in which the selected applicant will receive INR 28,000 with HRA, and Escort Assistance. The last date to apply for this scheme is 16th NOV 2023. It would be better to hurry up and click on this fellowship's title for more details.
The Scholarship is managed by the Central Government of India. It is a financial help provided by the government to the students who are economically weaker and have not sufficient resources to continue their studies. All those students studying between classes 8th To 12th can eligible for this scholarship.
Eligibility Criteria: The students should have 55 % marks in the previous examination to participate in this scholarship. Applicant parents' family income should not be more than 1.5 lakh per annum.
Selection In Scholarship: NMMS scholarship is divided into two tests and a student must get at least 40 % marks on both the test papers. Selected candidates will get INR 12000 per annum.
For the complete detail about the NMMS Scholarship Click Here
The famous scholarship is now open to apply in 2023. This scheme was introduced in 1956, by K.C.Mahindra Education Trust. This scholarship is one of the most awaited ones because the financial reward it provides goes up to INR 8 Lakhs for the top 3 scholars and INR 4 Lakhs for the remaining shortlisted applicants. There are a few terms, based on them this scholarship will be provided. The last date to apply is 12th April 2023. Get your registration done, by clicking on this scholarship.
Deadline: Interest candidates can apply for this scholarship before 30th NOV 2023.
RD Sethna Foundation calls for applications from 12th passed students and above who are willing to Commercial, Undertake Technical, Industrial or Scientific Studies in India and overseas. The main aim of this scholarship at assisting outstanding and deserving students of all communities thereby broadening their academic interests and in turn benefits the nation.
Eligibility Criteria: Applicant must pass the 12th exam with 50% marks and he also willing to ready for admission for higher education.
Last Date: Interested candidates can apply before 31st NOV 2023.
BML Munjal University MBA Scholarship 2023 is an opportunity for Postgraduate candidates to pursue their higher studies from the university. The main aim of this scholarship is to support the meritorious students in pursuing MBA from this university.
Eligibility: Students who are willing to pursue MBA from BML Munjal University and having valid GATE/ CAT/ GMAT scores can apply.
Awards: The scholarship covers a 100% tuition fee waiver and accommodation.
Deadline to Apply: 13th November 2023
Apply Online Click Here
Shriram Transport Finance Company (STFC) Limited, offering meritorious students to register themselves for the STFC India Meritorious Scholarship 2023 Programme, purpose to support financially deprived children of commercial transport drivers/ owner-cum-drivers. The fellowship is working with an aim to support students who face challenges while continuing their education can avail of the fellowship financial assistance which is up to 35,000 per year for completing their higher studies in the Diploma/ Graduate/ ITI/ Engineering field. Students are advised to submit their online applications for the STFC India Meritorious Scholarship Programme 2023-24 before meeting up the deadline, which is 30 Nov 2023.
MOMA Scholarship is granted by the Ministry of Minority Affairs. The aim of the scholarship is to provide financial support to students from a minority background who wants to pursue their higher education and achieve their dreams.
Scholarship Eligibility
This scholarship is divided into three parts are from 1st to 12th and for higher students after 12th.
The 30% scholarship is reserved for the girl candidates of the minority community.
Only the students of the minority community can apply for this scholarship.
Students must be pursuing their professional courses.
The deadline to apply for this scholarship is the 30th of September 2023.
Students can apply via the link given below.

Rewards: The selected candidate will get a maintenance allowance of INR 10,000 and course fee reimbursement up to INR 20,000.
Note - Candidates must have valid documents while applying for this scholarship. Any misleading information will be subject to the cancellation of the application.
To Know More Information about the MCM Scholarship Click Here
The Gaud Saraswat Brahman Scholarship League offers Scholarships for students belonging to the GSB community. Students from class 5th to graduation level can apply for this scholarship. The eligible candidates can fill and submit the application form before the due dates. Application forms are available in offline mode. The last date for receipt of applications varies class-wise.
To Apply: Click Here
Karnataka Minority Scholarship 2023 for IITs, IIMs students invite all the applicants of the minority community to apply and enjoy the privileges of this scholarship. It is granted by the Directorate of Minority, Govt of Karnataka that focuses on the minority community by providing financial assistance to the students who cannot afford their higher education. To apply for this scholarship, a candidate needs to take admission in IITs, IIMs, NITs, IIITs, NLUs, IISERs, AIIMs, INI, and IUSLA. Also, the candidate should be from a minority community such as Muslim, Sikh, Parsi, and Christian.
Deadline: The last date to apply for Karnataka Minority Scholarship 2023 is 15th Oct. The selected candidates will be given INR 2 lac (one-time incentive) during their course.
To Get Know More Click Here
Smt. Vijayalakshmi R.L. Jalappa Education Foundation invites all eligible candidates for the Vijayalakshmi R.L Jalappa Scholarship. This scholarship is especially for the students of minority backgrounds who are pursuing their Diploma, ITI, graduation, and post-graduation course. This scholarship provides financial assistance to students who cannot afford their higher studies. To apply for this scholarship, the candidate must be from BPL and the minority category. Candidates must apply with all valid documents. Any false information will lead to the cancellation of the application.
Last Date: The last date to apply for this scholarship is 15th Sept.
16- IITM Research Associateship
IITM Research Associates ship is solely managed by the Indian Institute of Tropical Meteorology (IIMT). This invites Ph.D. holders. The selected fellows will get many benefits if selected through the interview.
Eligibility
Doctorate in Meteorology/ Atmospheric sciences/ oceanography/ physics/ geophysics/ statistics or relevant subject.

Must be below 35 years of age as of 30.4.2021.

Awards: Selected candidates will get INR 47,000 per month.
Deadline to Apply: 31st OCT 2023
17- SERB Science and Technology Award for Research (SERB-STAR)
Science and Engineering Research Board are inviting all the talented candidates to apply for the SERB Science and Technology Award for Research (SERB-STAR). The candidates' age between 40 and 50 years will be awarded for SERB projects as Principal Investigators. The selected candidates will get many benefits under this award.
Eligibility: Must be Academic researchers of 40 to 50 years of age holding a regular position at an academic institution or recognized R&D institution.
Awards: INR 15,000 per month and other benefits.
Deadline: 27th NOV 2023
List of Scholarships for 2nd PUC Students Karnataka 2023
Below mentioned is the list of scholarships for 2nd PUC students in Karnataka 2023. You can apply online for any of the summarized endowment below–
1. Vidyasiri Scholarship for 10th passed students
Vidyasiri scholarship is offered by the department of backward classes welfare, Government of Karnataka. It focuses on the students belonging to SC/ ST/ OBC/ PWD and is pursuing education in post matriculation programs. Candidates must be domicile holders of Karnataka with a family income should be 1 lakh to 2 lakh P/A or less. Applicants must have 75% attendance. Selected students will get a reward of INR 15,000 to 500 students.
Last date to apply: The scholarship is generally open till November (tentatively) every year.
Apply from: www.karepass.cgg.gov.in
2. Siksha Abhiyan scholarship for 10th passed students
Siksha Abhiyan Scholarship is for 10th passed out student offered by Modi Foundation. The main aim of this scholarship is that every youth should be given an education. Students from class 8th to class 12th are eligible to apply for this scheme. Final year students i.e. students who are waiting for their board result can also apply. Indian nationals who are from Himachal Pradesh, Uttar Pradesh, and West UP states can also apply. Selected students will be rewarded a cash prize of INR 50,000 to INR 8000 on the basis of their ranking. One can apply between March to April 2023 tentatively.
3. Vidyadhan Scholarship for 10th passed students
Vidyadhan Scholarship for 10th passed students is particularly managed by Sarojini Damodaram Foundation. This particularly focuses on the students who are completed their 10th with a minimum of 90% marks from Karnataka, Telangana, Kerala, Tamil Nadu, Andhra Pradesh, and Gujarat. Their family income should not be more than 2 lakh P A. The selection of a candidate will be done on the basis of academic performance, interviews, and small tests. Apply here https://www.vidyadhan.org/apply
The above is the scholarship for 10th passed students who are from low economic backgrounds. The scholarship for 10th passed out students Karnataka has helped a lot of students, especially those who cannot afford their studies. This has covered each and every section of society in terms of education and has lowered the dropout rates
FAQs Of Karnataka Scholarships
Que. Which Scholarship is available in Karnataka?
Ans: There are many scholarships that are available in Karnataka. Students can pick according to their needs. Read the above blog where we have mentioned different Karnataka scholarships. However few popular schemes of this state are –
The incentive for SSLC & 2nd PUC students, Karnataka
Merit cum Means Scholarship for Minorities, Karnataka
Post Matric Scholarship for Karnataka
Research guidance Ph.D. fellowship for backward classes, Karnataka
Scheme of Overseas Scholarship for SC/ ST students, Karnataka

Que. How can I get a scholarship in Class 10th?
Ans: Look for a Karnataka scholarship for 10th-passed students. If you have passed 10th and are from low economic background or category candidate then you can apply easily. There are many schemes for 10th-passed students for Karnataka state. To get a particular scheme you have to meet its eligibility criteria of it.
Que. How can I get SC/ ST scholarship in Karnataka?
Ans: You can get SC/ ST scholarship only if you have a category certificate of the SC/ ST category and you are typically belonging to sc/ st category.
Que. Is there any scholarship for 10th students?
Ans: Yes, there are many scholarships for 10th passed students for Karnataka. Go through the blog and you will find details about schemes like –
Vidyasiri Scholarship for 10th-passed students.
Siksha Abhiyan scholarship for 10th-passed students.
Vidyadhan Scholarship for 10th-passed students.