PM Modi Latest Scholarship Scheme 2019-2020 For 10th & 12th Passed Students (Rs 25000 Cash prize) Application Form Officially From www.desw.gov.in Portal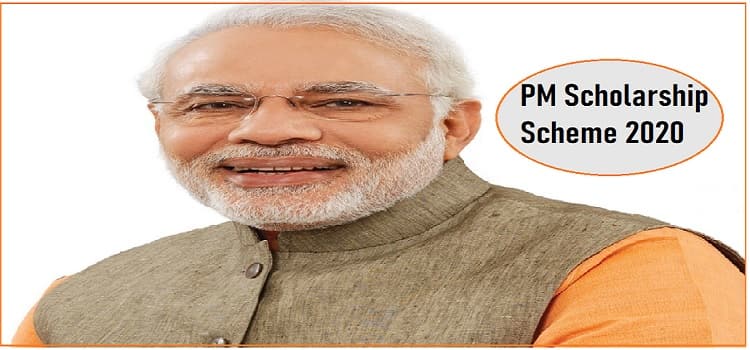 Prime Minister Narendra Modi launches PM Scholarship for the 10th and 12th class passed students. Hence, eligible students get Rs 25000 under this scheme to pursue their Higher Education. In this article, you have found the complete list of PM Modi Scholarship Scheme 2019-20 with the application form and last date announced by our Honorable Pradhan Mantri officially on www.desw.gov.in scholarship portal.
PM Scholarship 2019-20 Scheme run by Kendriya Vidhyalaya Sainik Board Secretariat, Department of Ex-Servicemen Welfare, Ministry of Defence, Government of India. It is a small initiative taken by our respected Prime Minister Narendra Modi with an aim to encourage higher professional and technical studies for the deserving candidates. The scholarship will be given to the wards and widows of Ex/Serving /RPF/RPSF/CAPF /Armed Rifles so that later on they should get better employment opportunities. The scholarship has done justice to the candidates who are in the blood relation of a person serving or have served defense forces. The scholarship runs all throughout the year except January to April. The selected candidate will enjoy awards and privileges of a particular amount per month.
PM Scholarship Scheme 2019-2020 - Overview
Our Honorable Prime Minister Modi Ji announced many schemes for the welfare of Indian Citizens. The famous schemes are P.M Kisan Yojana & PMVVY Scheme, Pradhan Mantri Yojana, Modi scholarship (PMSS). Under PM Scholarship Scheme, 25000 Rs scholarship offering to 10th or 12th pass students by Narendra Modi. However, by this scholarship scheme financial help will be given to 82 thousand students which will divide equally among 41 thousand boys and 41 thousand girl students. Successful students will be awarded scholarships every year among the students across the country.
Who Is Eligible For PM Scholarship 2019-20?
Candidates whose age is in between 18 to 25 years.
Any student whose family annual income is not more than Rs 6 lakh.
Any student who has taken admission to any technical or professional Diploma/Graduation course in the year 2019-20.
a student who is studying any of the below courses from a recognized Govt. regulatory body.
Any student who has passed class 12th / Graduation or any Diploma course with minimum or above 60% marks.
Any student who is a dependent ward or a widow of Ex-Servicemen and Ex-Coast Guard personnel who died in harness or got disabled during coast guard service or military service.
A student who is not a civilian or award of Para Military Personnel.
Any student who is not getting any wage for a professional degree course.
Any student who is pursuing studies through only a regular, not a distance learning course.
You can write your question in the Comment Box related to the "PM Scholarship Scheme for 10th & 12th Students". We will try to answer.
Note: Students can apply for this scholarship just for one course. If they apply for scholarships in more than one course the application will be considered invalid.
Who Is Not Eligible For PM Scholarship?
Any student pursuing a Master's Degree Courses is not eligible.
Any student who is earning or serving any in any job is not eligible.
The student who is studying abroad.
Any student doing a distance learning course is not eligible.
How to Apply for PM Modi Scholarship Scheme Application Form
To Apply in Modi scholarship scheme, candidates must meet the eligibility criteria and then follow the steps are given below
For new user, registration Click here
Fill all the details mentioned in the form
Upload the photo of the applicant only IN JPEG/JPG/GIF or PNG format.
At the end fill the captcha
After filling the required details click Submit.
For Old User
Log in with your username or password you have created
Complete the application process to apply for the scholarship
A scanned copy of all required documents has to be uploaded.
Submit the application form.
PM Scholarship Portal Online www.desw.gov.in
Know More: Scholarship After 12th
PM Scholarship 2019-2020 Application Form
Candidates who want to apply in PM scholarship can download the application form. Submit all the details properly
PM Scholarship 2019-20 Reward or Amount
The students will be awarded scholarships through Direct Benefits Transfer (DBT) and Aadhar Payment Bridge to transfer the money directly into the student's bank account.
Any students who have passed the class 12th exam with a minimum of 75% marks will be given a scholarship amount of Rs.1000 for 10 months ( Total Rs.10,000).
Any student who has passed the class 12th exam with a minimum of 85% marks will be given a scholarship amount of total Rs. 25,000.
Also, those students who are doing any 4 or 5-year professional course will be provided with the scholarship amount of Rs.2,000 per month in there 4th and 5th year. In the process to receive this scholarship continues the students need to score a minimum of 50% marks each semester. In case of getting failed or get unsuccessful in scoring marks equal to or more than 50%, the scholarship will be stopped.
Selection Procedure In Modi Scholarship Yojana 2019-20
The selection procedure will be conduct as per the category and percentage of marks obtained by the applicant in class 12th. The preference will be given in selection serial wise as mentioned below:-
Children, Widows of Ex-Serviceman, Coast Guard who are killed in action.
Children, Widows of Ex-Serviceman, Coast Guard who got disabled in action.
Widows, Children of Ex-Serviceman, Coast Guard who had died during service for Military or Coast Guard service.
Children of Coast Guard who got disabled in army service or Coast Guard service.
Widows and Children of Ex-Serviceman, Coast Guard who is the recipient of gallantry awards, irrespective of the rank. 4
Children, Widows of Ex-Serviceman, Coast Guard (PBOR Only).
Mandatory Notes & Policies For Prime Minister Scholarship
Below is the list of important documents that are essential to apply and submit the application process.
Duly signed confide certificate by the Vice-Chancellor/Dean/Principal/Vice
Principal/Registrar/Associate Dean/Deputy Registrar/Director/Deputy Director
Certificate issued by Bank Manager stating the seeding of Aadhar Card with the student's Bank account.
Marksheet of class 10th as a proof of date of birth.
Complete mark sheets of any, of course, obtained Class 12/Graduation (3 years)/Diploma (6 semesters whichever course has been completed.
Copy of the first page of the student's bank passbook or a canceled cheque of the account. If applicable category certificate.
Aadhar card.
In case the ward born after the retirement of ESM self-certificate/affidavit of ESM is also required.
All the above-mentioned documents should be submitted only in PDF/JPEG or JPG format.
Maximum two wards of an Ex-Servicemen can apply for this Scholarship.
Certificate of Ex-Servicemen/Ex-Coast Guard Personnel duly signed by ZSB/CG HQ
Documents Require To Apply Prime Minister Scholarship Category Wise
Category 1st

For Army - Part II Order
For Navy - Gen Form
Air Force - POR

Category 2nd

For Army - Part II Order
For Navy - Gen form
Air Force - POR

Category 3rd

For Army - Part II Order
For Navy - Gen Form
Air Force - POR

Category 4th

For Army - Part II Order
For Navy - Gen Form
Air Force - POR

Category 5th

Award certificate with the gazette notification

Category 6th

ESM Identity Card or PPO
PM Scholarship 2019-20 Latest Announcement
PM Scholarship 2019-20 for 12th Passed Students by Narendra Modi
The government of India under the leadership of Prime Minister Narendra Modi Ji has launched many scholarships for class 12th passed out students. This scholarship is an initiative to organize literacy levels in India especially for the children who are from a weak economic background. The scholarship allows participating those students who belong to a category and has a low-income level. This scholarship is basically awarded to undergraduate students who want to pursue their careers in the stream of engineering, computer application, pharmacy, medical, etc. The scholarship is also awarded to different categories that are ST, SC, EBC, SEBC, OBC, and minority candidates. The scholarship will be strictly given on the basis of the family income of the candidates.
PM Scholarship Scheme for Doctoral Research is a joint initiative of the Science and Engineering Research Board & Confederation of Indian Industry. This fellowship program available for Ph.D. Students in India. This PM Scheme provides an opportunity for Ph.D. Scholars to do research in Technology, Medicine, Agriculture, Engineering, and Science fields. Selected candidates will receive INR 10.92 Lac per annum, 50% of which will be provided by the government and the remaining 50% will be by a sponsoring industry for a duration of four years

PM Scholarship Scheme for 10th passed students 2019-20 by Narendra Modi
Scholarship for class 10th students by Narendra Modi is a wonderful initiative taken by our Prime Minister to overcome the problem of illiteracy in India. The scholarship is for the students who have done their 10thand are willing to pursue a diploma or vocational courses after 10th. Not only this the scholarship also provides financial support to the students who are willing to pursue their schooling after till 12th. PM scholarships for class 10th students are generally given on the basis of the family income. Government scholarship for 10th passed students generally comes under Post- Matric Scholarship specially designs for meritorious and ambitious candidates who have passed class 10th. This scholarship is offered under various categories like for girls, SCs, STs, OBC's, and other category candidates. Students can look for any Post –matric scholarship by visiting www.dsew.gov.in or else reading our complete blog below.
Conclusion Of PM Scholarships 2019-20
As a developing country like India, we need scholarships to strengthen our education sector. The government of India and many other private institutes are providing scholarships to financially weak or meritorious students. Prime Minister scholarships are made for those students, who are really in need of it. Pradhan Mantri Scholarship Yojana has rewarded so many students who belong to various backgrounds/categories.
PM Scholarship last Date: 15 May 2020
Faq's Regarding Prime Minster Narendra Modi Scholarship
We have tried to cover your doubts regarding the PM Scholarship Scheme in the form of questions and answers.After going through the set of queries if you are still left with any doubts, then you can contact directly to us. The details gave given in each article related to PM Scholarship.
Q1. Can I apply for PM scholarship through online mode?
Ans - Yes, it Depends on the scholarship mode you choose. Some PM Scholarships are online mode and some are offline.
Q2. I am pursuing my second year of professional course, am I eligible to apply?
Ans - No, you are not eligible to apply. Only the students who are in their first year can apply for PM Scholarship, except for lateral entries and integrated courses.
Q3.Is PM Scholarship Scheme is applicable for Diploma Courses?
Ans - No, this is not for the students who are pursuing their diploma courses. Prime Minister Scholarship scheme covers only professional degree courses like AICTE, UGC, MCI, etc
Q4. I am a scholar of PMSS, I am eligible to apply again?
Ans - No, you can avail of the scholarship only for one time.
Q5. PM Scholarship is for PG courses as well?
Ans - No, PM Scholarship covers MCA and MBA courses only.
Q6. What are the eligibility criteria I have to meet to get the benefits for the subsequent years?
Ans - You have to secure a minimum of 505 marks each semester to continue the benefits of PM scholarship. Failing in any semester will lead to discontinuation of the scholarship.
Q7. PM Scholarship is for civilians or wards of Para-Military personnel/central armed forces police?
Ans - No, this scholarship is forwards and widows of EX servicemen who have served coast guards, airforce, army, or navy.